Digital Marketing
Bing Ads Marketing
We are a Microsoft Bing Partner agency and have significant expertise across the entire Microsoft Marketing Suite.
Bing enjoys 19.5% of the desktop search engine market share, but has only about 5% market share overall (mobile + desktop) in Australia. Google enjoys about 90% market share overall however, Bing is often less competed on as most other digital marketing agencies avoid it and have not trained in it, so for some savvy companies, Bing is seen as an opportunity.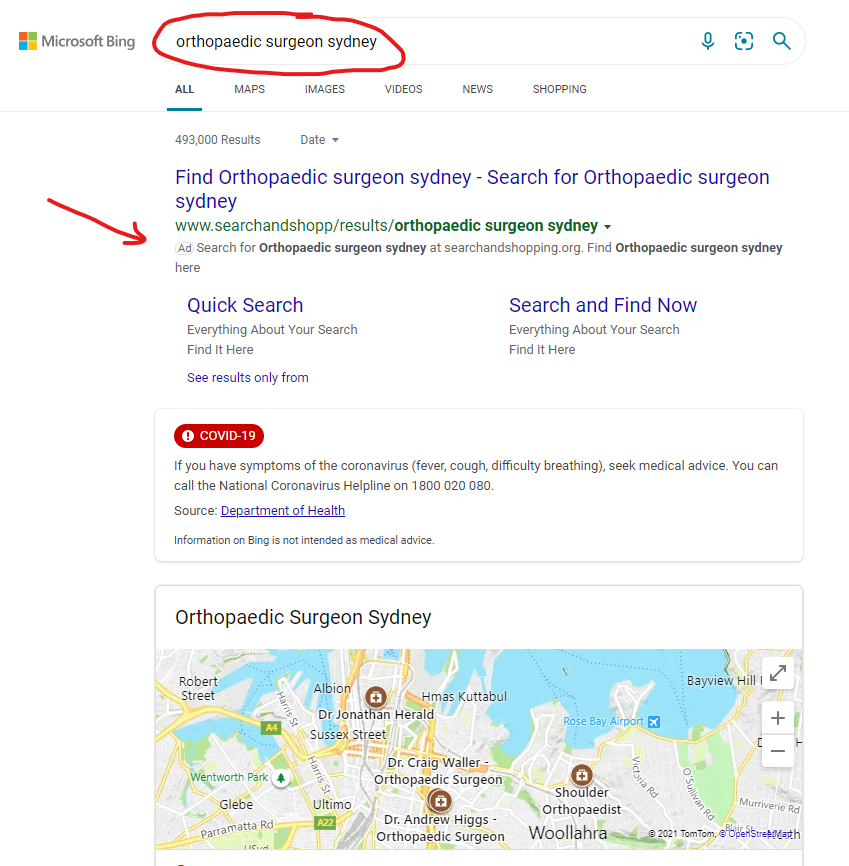 What are Bing Ads?
Microsoft Bing Ads are the same as Google Ads, however they only appear when using the Bing search engine.
However, one very subtle difference with Bing Ads is the extent to which Microsoft has 'hidden' the little "Ad" symbol, making the advert essentially invisible to those searching.
The data shows that the older the person is, the less likely they are to know they are even clicking an ad. They simply assume the top position is deemed the best answer to their search.
This powerful reality sees advertisers enjoy a solid pipeline of leads through search engines when targeting searches of people who have intent (eg: "orthopaedic surgeon sydney").
Bing Ads
Target local patient directly that are looking for what you offer.
Creative Design
Copy writing of all creative to be used in search campaigns.
Universal Event Tracking (UET)
Conversion tracking to measure the behaviour of those who click Ads.
Campaign Management
Professional on-going management of search campaigns and budgets.
Reporting
Digital reporting showing conversion trends and key data insights.
No Fixed-Term Contracts
We understand the need for flexibility and accountability. Accordingly, we are happy to work month-by-month. We are confident that our highly-refined patient targeting systems and intellectual property will deliver and if it isn't working (for whatever reason) we respect your right to discontinue.
Let's Get Started
Ready to invest in your marketing and start seeing more patients?